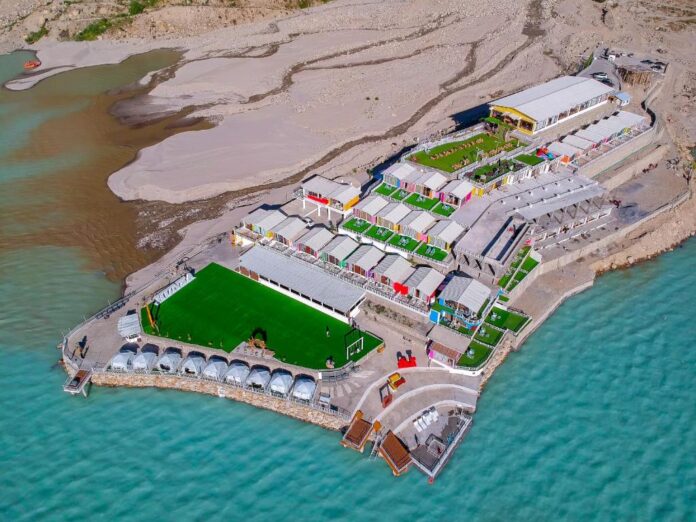 | Season | From | To | Price |
| --- | --- | --- | --- |
| Peak season | 2023-06-27 | 2023-08-31 | 300 $ |
Nestled amidst the majestic mountains of the Hunza Valley, Luxus Hunza Attabad Lake Resort offers a truly enchanting escape from the ordinary. With its stunning location overlooking the mesmerizing Attabad Lake, this exquisite resort is a haven of tranquility and opulence. Whether you seek a romantic getaway, a family vacation, or a rejuvenating retreat, Luxus Hunza is the perfect destination to indulge in luxury and immerse yourself in nature's beauty.
One of the standout features of Luxus Hunza Attabad Lake Resort is its breathtaking surroundings. The resort is perched on the picturesque banks of Attabad Lake, with the magnificent Karakoram Range as its backdrop. The views are nothing short of awe-inspiring, offering a captivating panorama of snow-capped peaks, crystal-clear waters, and lush green valleys. The natural beauty of this region is unparalleled, and Luxus Hunza ensures that you can experience it in its full glory.
Step inside the resort, and you'll be greeted by an ambiance that exudes elegance and comfort. The architectural design seamlessly blends traditional craftsmanship with contemporary luxury, creating a harmonious blend of old-world charm and modern sophistication. The well-appointed rooms and suites are meticulously designed, offering a sanctuary of relaxation and tranquility. Each room boasts panoramic views of the lake or the mountains, ensuring that you're constantly connected with nature.
Luxus Hunza Attabad Lake Resort takes pride in its commitment to providing world-class amenities and services. From the moment you arrive, you'll be greeted by warm and attentive staff who are dedicated to making your stay truly memorable. The resort features a range of facilities, including a spa and wellness center, where you can indulge in rejuvenating treatments and therapies. Immerse yourself in the soothing waters of the infinity pool, or unwind in the well-equipped fitness center. For those seeking adventure, the resort offers exciting outdoor activities such as hiking, boating, and fishing.
Culinary delights await at Luxus Hunza's exquisite dining options. The resort's restaurants offer a diverse range of gourmet cuisine, prepared by talented chefs who blend local flavors with international influences. Savor a delectable array of dishes made from the freshest local ingredients, complemented by an extensive selection of fine wines and spirits. Whether you prefer a romantic candlelit dinner or a casual al fresco meal, the resort caters to every palate and occasion.
Beyond the luxurious accommodations and amenities, Luxus Hunza Attabad Lake Resort is also an ideal base for exploring the wonders of the Hunza Valley. Embark on a journey to discover ancient fortresses, vibrant bazaars, and fascinating cultural sites. Engage with the friendly locals and immerse yourself in the rich traditions and heritage of this region. Luxus Hunza can arrange personalized excursions and guided tours, ensuring that you make the most of your visit and create lifelong memories.
Luxus Hunza Attabad Lake Resort is more than just a luxury retreat; it's an experience that touches the heart and nourishes the soul. From the breathtaking natural surroundings to the impeccable service and attention to detail, every aspect of your stay is designed to provide a truly unforgettable journey. Indulge in luxury, immerse yourself in nature, and create cherished memories at Luxus Hunza Attabad Lake Resort. Book your stay now and let the enchantment begin.
For more information and reservations, visit https://hunzatimes.com/hb_accommodation