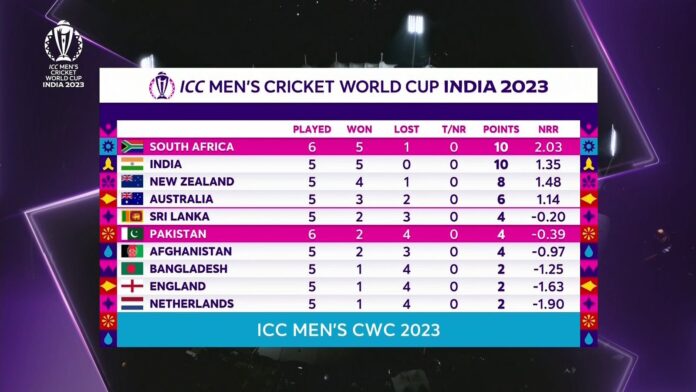 Cricket has always been a religion in Pakistan, with a passionate and dedicated fan base that ardently supports their team in every major international tournament. Yet, Pakistan's performance in the Cricket World Cup has often left their supporters and cricket enthusiasts around the world scratching their heads. In a recent thriller, South Africa defeated Pakistan, pushing them down in the standings. While each match is unique, there are certain recurring factors that may contribute to Pakistan's inconsistent World Cup performance. Let's explore the top 10 reasons why Pakistan often faces defeat in the Cricket World Cup.
Lack of Consistency: One of the most critical issues plaguing Pakistan's World Cup campaigns is their inconsistency. Pakistan can be a formidable force one day and a fragile team the next. This inconsistency hinders their ability to perform consistently well throughout the tournament.
Nervousness and Pressure: The pressure of representing a cricket-crazy nation like Pakistan can be overwhelming. Players often find themselves unable to handle the weight of expectations, leading to poor decision-making and underperformance under pressure.
Poor Fielding: In numerous World Cup matches, Pakistan's fielding has been subpar, resulting in missed catches, sloppy ground fielding, and misfields. These lapses can be game-changing, costing them dearly.
Inadequate Depth in Bowling: Pakistan has historically boasted a strong bowling lineup, but the lack of experienced bowlers in recent years has been a significant issue. When the key bowlers fail to deliver, it puts immense pressure on the team.
Weak Opening Batting: Inconsistent and unstable opening partnerships have haunted Pakistan in World Cups. A strong start is essential in limited-overs cricket, and Pakistan's struggles at the top order often set them back.
Unsettled Middle Order: Pakistan's middle-order batsmen have been inconsistent in their performances, making it difficult for the team to build and maintain momentum during crucial phases of the game.
Spin Troubles: Historically, Pakistan has been a dominant force in spin bowling. However, in recent years, they have struggled against quality spinners, both with bat and ball, which has cost them crucial matches.
Inadequate Preparation: Lack of proper preparation and exposure to conditions in host countries has been an issue. Teams that adapt to local conditions and pitch dynamics tend to perform better.
Team Selection Controversies: Controversial team selection decisions have been a recurring theme in Pakistan's World Cup campaigns. These decisions often lead to a lack of cohesion within the team and can be detrimental to their performance.
Off-Field Distractions: Off-field controversies, politics, and disputes within the Pakistan Cricket Board (PCB) have at times overshadowed the team's focus. This can have a negative impact on the players' morale and concentration.
Pakistan's cricketing history is rich and filled with moments of glory, but their inconsistent World Cup performances have left fans and experts alike perplexed. While each World Cup campaign is unique, addressing these recurring issues, such as consistency, handling pressure, improving fielding, and nurturing talent, will be crucial in Pakistan's quest for future success in the Cricket World Cup. With the right approach, Pakistan can hope to overcome these hurdles and return to their winning ways in future tournaments.